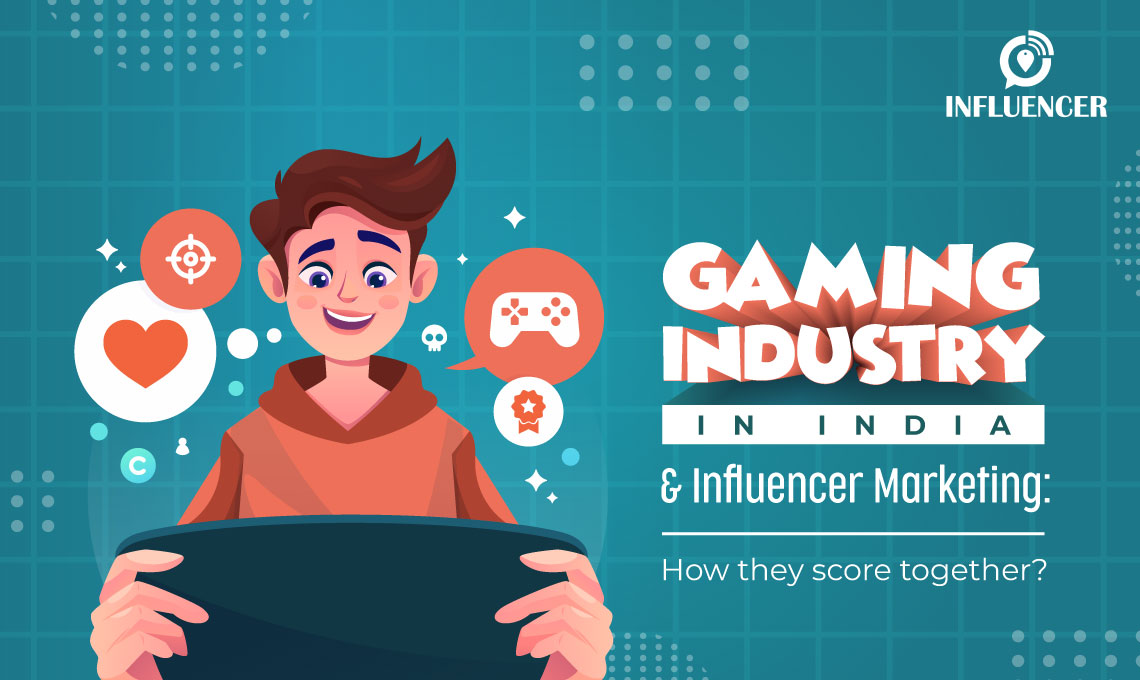 Gaming Industry in India & Influencer Marketing: How they score together?
Author: Dhruv Pandey
|
Updated Date : May 15, 2023
The covid-19 pandemic has turned the way we use the term "normal" on its head with nearly every industry, be it big or small, has to either adapt or perish to the current changes. However, if the talk is about graciously adapting to a new-age challenge, then no better than a Digital Marketing industry! Be it the incoming Apple privacy changes that would affect the way we approach online marketing, the TikTok ban in India, or the dearth of money that bigger brands put in for their marketing campaigns — the end motive remains the drive for growth. 
Although one section of the industry which has thrived in this pandemic is the Entertainment and Infotainment industry – a space that includes Netflix, Amazon Prime, Influencers, Live streams, and all other sorts of content available throughout the internet. The industry has seen a drastic rise in content consumption since most people are home owing to the covid-19 induced lockdown and surfing the internet more than before. 
Carry Minati(Ajey Nagar), Tanmay Bhat, MortaL, Dynamo Gaming, RawKnee gaming are some of the widely popular names among the list of the top gaming influencers who are making an online engagement favouring the gaming industry in India. They are influencers who have managed to rope in brand deals with some of the top gaming companies in the gaming industry in India today either to promote a product or a cause. 
Let's have a more detailed look below: 
1) Carry Minati and his rise to YouTube Fame: 
Ajey Nagar or popularly known by his YouTube channel name Carry Minati is one of the top YouTube influencers in India who has a whopping number of followers. He started with reviewing and streaming games online on his channel and gradually rose to stardom. He has appeared on several gaming streams with gaming influencers and e-sports stars like MortaL and others. All in whole, Carry Minati is one of the most important names on the Indian YouTube platform who talk for brands like Asus, Mivi, Arctic Fox, etc.
2) Pubg and the making of a cultural phenomenon : 
One of the best online multiplayer games that helped propel the Indian gaming industry to the bigger stage was Pubg Mobile with the rise of gaming influencers and streamers like MortaL, Scout, Carry Minati, SouL, Dynamo Gaming, RawKnee & Kronten. Pubg Mobile has reached heights of popularity in no time and is the influencers' gaming commentaries like 
"Patt se Headshot", "Aao Kabhi Pochinki Main" and Winner Winner Chicken Dinner on the lips of every Indian kid and adult alike. Soon enough brands followed suit and got in touch with top influencer marketing platforms to get connected with the top influencers. Phone-makers like OnePlus, Asus, Oppo, and streaming platforms like Amazon prime roped in influencers with lucrative sponsorship deals. Even if we set aside the monetary aspects, Pubg and the rise of the online gaming ecosystem in India has allowed streamers to hit consistent numbers, grow a cult following, and earn a stable income enough to support themselves through gaming, something a decade back was even unimaginable in India 
3) How Tanmay Bhat and StayHomeForIndia stream raised ₹17 Lakhs for covid relief donation: 
In a bid to raise covid-relief fund, a two-day marathon live stream conducted last year collectively saw around 80 of India's best stand comedians, social media influencers, streamers, and many leading entertainers come together and raise over ₹17 Lakhs. A scriptwriter, comedian, and actor, Tanmay Bhatt was seen moderating multiplayer online games like Pubg, Skirbble, Charades, and other interactive games with fellow influencers. These online game streams by our favourite entertainers have only made a positive impact and a sense of community feeling, especially during such an unprecedented time. 
4) Contributing factors:
Now that we have discussed how some of the top influencers rose to the opportunity, let's see other factors contributing to this journey. 
Firstly, half the population in India is below the age of 25, and with the rise of internet users across the length and breadth of the nation, online gaming was a fruit waiting to be picked. Among many multiplayer online games, Pubg was one of the many catalysts that allowed the scene to thrive. With such a young audience comes a massive purchasing power and the ability, the desire to spend on in-game items that help developers keep the game running.
The second was the influx of affordable yet high specs smartphones that enable smooth gaming experiences throughout without any hiccups. Additionally, when combined with cheap data costs and the intent to purchase by the younger generation has helped create an eco-system, that is there to thrive irrespective of the several games available. 
Brands are leveraging influencer marketing strategies and the top influencers with their online engagement are surely attributing to the growth of the Indian gaming industry in big time!