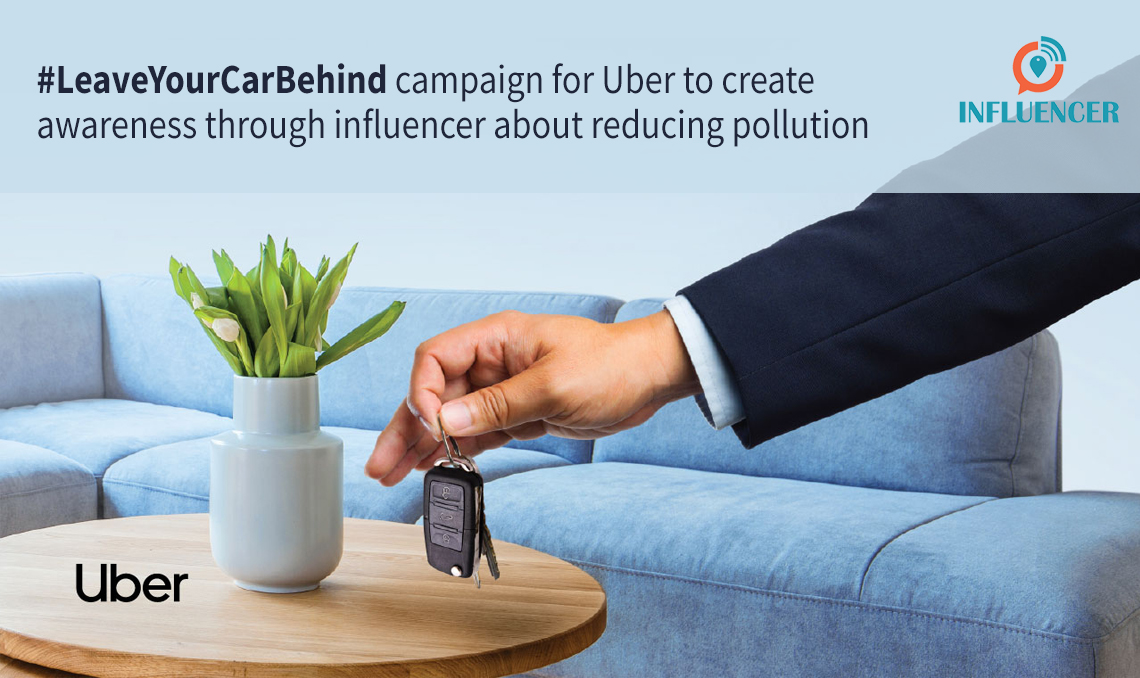 #LeaveYourCarBehind Campaign for Uber to create awareness through influencers about reducing pollution
Author: Smitha Bharadwaj
|
Updated Date : February 21, 2022
#LeaveYourCarBehind Campaign for Uber to create awareness through influencers about reducing pollution
Uber is one of India's leading ride-hailing firms, with a presence in over 63 countries, completing 14 million trips each day over 91 million active platform consumers.
They approached us to help them execute three of Uber's digital campaigns to create awareness to reduce pollution during Diwali in India's capital city – Delhi.
Delhi is one of the most polluted cities in the world. Come winters, and the AQI levels take a turn for the worse. Uber celebrates cities and works towards their betterment. Moreover, every Uber replaces a few cars on the road, clears Delhi's roads, and in turn, unburdens the air.
Uber's #LeaveYourCarBehind campaign:
Uber's #LeaveYourCarBehind campaign urges Delhiites to leave their personal cars behind and opt for public transport – ranging from buses, metros and other ride-sharing services, like Uber Pool. The campaign stressed on how keeping Delhi pollution-free is a shared responsibility and it is the least we can do for the city we live in and love.
For this activity, actor, model, and influencer, Delhi's Ayush Mehra, and popular content creator and entertainer, Ankush Bahuguna both spoke about Uber's initiative on Instagram. They shared advice on the importance of making use of public transport to reduce pollution in Delhi. They also explained how Uber has a complete CNG fleet which is extremely useful in last-mile connectivity.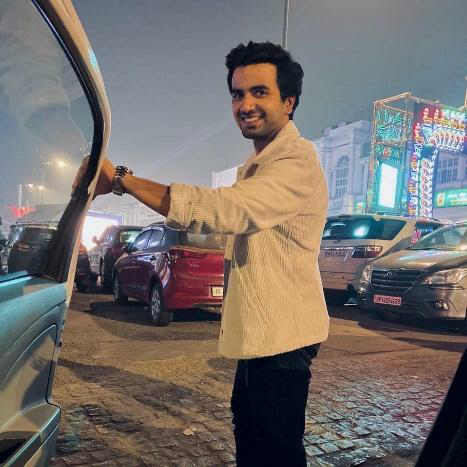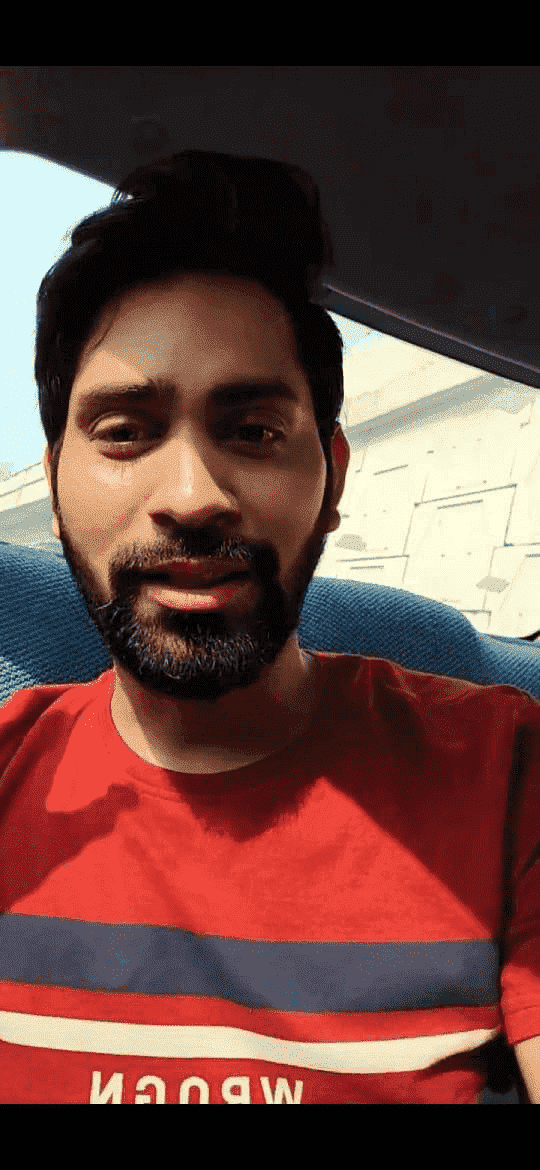 Uber's #LaserLight show campaign:
In order to celebrate a cracker-free Diwali, the Delhi government organized a four-day laser light event with music at Connaught Place in Delhi. The entire area wore the festive look with lights scattered and shining bright.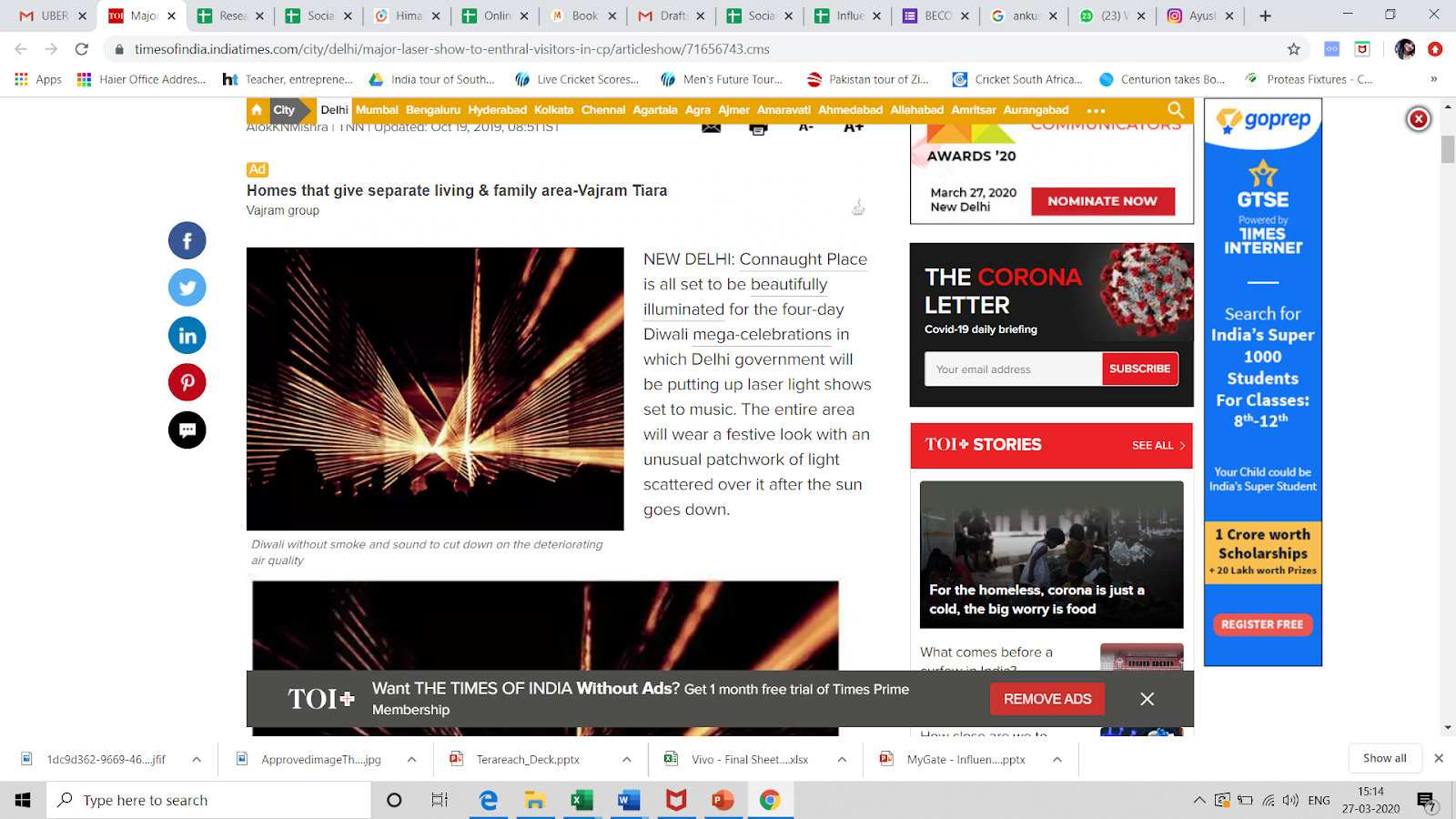 Uber collaborated with social media photographers and influencers to create awareness around the concept of not bursting crackers on Diwali. For this activity, we roped in upcoming photography influencers from Delhi to capture the laser light arena from their Uber ride. The name of the campaign was #ShotEnroute where influencers had to take an Uber from their homes to the event in Connaught Place. During their ride to the event, the influencers shot images of the lights that were all over the place. Veronica Gera and Zaid Salman captured a few amazing stills of the event while they were on their way to the event.
Uber's collaboration with Chakr:
Adding on to the campaign #LeaveYourCarBehind, Uber collaborated with Chakr – a team that is constantly working to improve the quality of air with the help of their product, named "Chakr Shield". This innovative product is a device that captures the pollution at the source to control the emissions, and then converts it into something useful, for example, ink!
The activity took place in Lodi Street in Delhi where street artists came together and used the ink from Uber's Chakr's Shield to leave messages for the people of Delhi to save the city from air pollution.
We helped Uber collaborate with a popular photography Delhi influencer – Raghav Rai Ralhan – to capture this beautiful graffiti on the street corner to create buzz around the same.
Campaign Metrics :
No of Influencers – 5
Total Reach – 1 Million
Total Engagement – 1,00,000