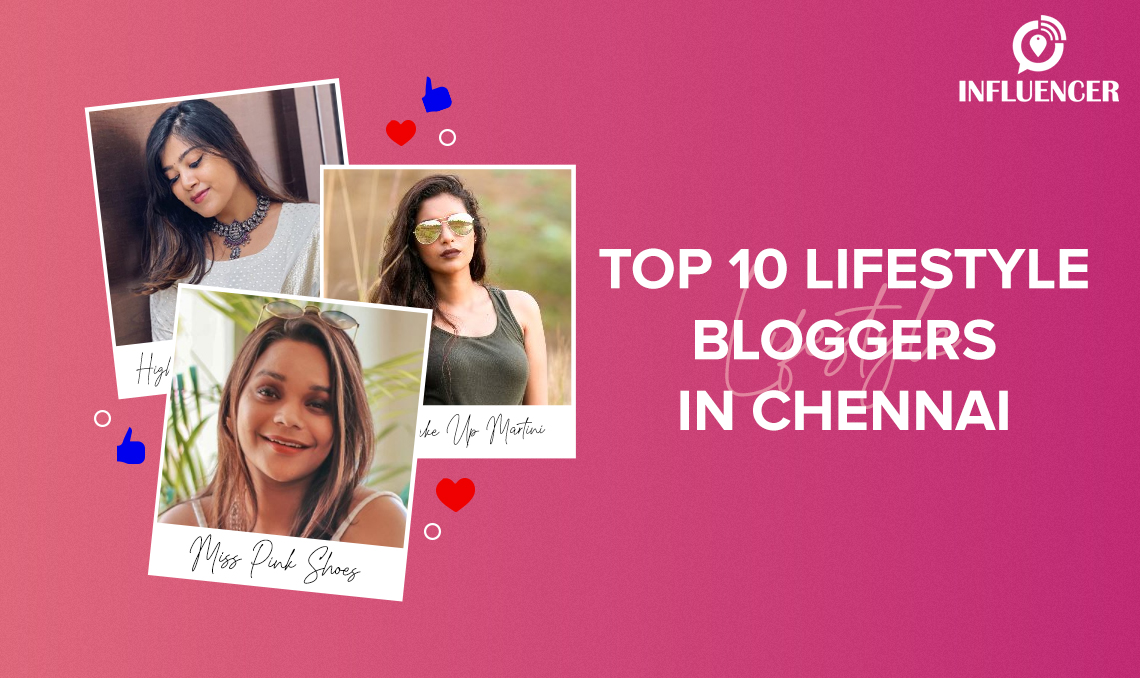 Top 10 Lifestyle Bloggers in Chennai
Author: Sayantan Rudra
|
Updated Date : February 18, 2022
The lifestyle trends and changes in mindset are often influenced by Lifestyle Bloggers. Many of these ever-evolving influencers have recently swarmed on various social media platforms. We have found the 10 best lifestyle bloggers from Chennai below:
Having started blogging in 2014, Pavithra is a true inspiration. She covers lifestyle, fashion, and beauty in her blog. Street style to high-end party look, she covers it all. She also gives out a lot of styling tips, makeup tutorials, and does product reviews for her followers. Having worked as an IT professional in the past, she has gone a long way in becoming one of the top lifestyle bloggers.
A popular name in the lifestyle blogging world, Noopur Kalra has great taste and she manages to showcase it successfully through her blog Simply Moda. She owns a brand named "The Simply Moda Shop". She has worked with popular brands including Guess, Nissan, and GK Hair India. Her blog gains a lot of appreciation and stands out for its beautiful design.
One of the top bloggers in her space, Ayisha, an architect and a model does some amazing work on her blog Lushpoutlife. She exhibits confidence in her smart way of dressing. She won "Miss Body Beautiful" in the 2017 edition of Miss India. She also travels extensively and explores new places. A quick look at her Instagram profile will give you loads of lessons on fashion, lifestyle, and beauty. If you ever having doubts about choosing your outfits, this blog is surely gonna help you resolve them.
Jayshreevinay is a young lifestyle and fashion blogger who has created a large fan following. She is loved by her audiences for her versatility in dressing, ranging from a casual tee to a gorgeous saree. The energy and enthusiasm are quite feeble in her blog posts. Her blogs on lifestyle, fashion, beauty, and travel are definitely something to take a look at. She has also worked with the brand Lifestyle, and many others showing promising prospects ahead.
A fashion blogger and enthusiast, Niki Verma Rastogi's blog is quite refreshing. She blogs on lifestyle, fashion, and beauty. Her style is quite appealing and she also promotes brands like Spawake, Plum, and many others. The blog gives a lot of fashion tips and you can surely learn a lot from it.
She blogs on Lifestyle food and fashion. Having worked with brands like Wella and Dior, among many others, she inspires through her amazing style. Her blog is a must-follow for anyone looking for lifestyle and fashion tips apart from great ideas and current trends. She gives a very professional touch with a great style and followers are sure to love it.
Sushmita Agarwal, popular for her blog named Miss Pink Shoes is a Lifestyle, Fashion, and Beauty enthusiast. You can find the latest fashion trends and makeup tips on her blog. The tips and style are sure to give you a fashion upgrade. She experiments with a lot of colors and prints and they come out in great ways. She is also a foodie and the blog is a lively mix of all the elements.
High on Styl is sure to give you a very fresh way of looking at lifestyle and fashion. Her style portrays confidence in a beautiful way. She has collaborated with Usha international and Bluestone among many others. She is an expert with considerable experience and her fabulous lifestyle posts are sure to grab your attention. She is also bold with colors and says a lot through her minimalist style, truly living up to her blog, 'High on Styl'.
Gorgeous, beautiful, and stylish, Swetha Renukumar's blog, One Pitch Catch, showcases a great lifestyle and fashion sense. Her bold ay of going about is quite motivating. She personalizes and recreates in her own ways and it makes her stand apart. She also includes beauty, wellness, fashion, and her love for travel. The blog gives a genuine and authentic feel. She has worked with many popular brands including Crocs India and Daniel Wellington.
?Simran
This young lady is sure to steal the show with her style and taste. This lifestyle influencer is also very fashionable and inspires youngsters. Having promoted brands like YLG and Organix Mantra, this young blogger's posts will make you take a relook at your wardrobe. The most current and updated trends can be seen in her blog and her young followers love it.
With influencer marketing being on the rise, a lot of people have started making it a profession. The industry is expected to keep growing in the years to come. This was a list of Lifestyle bloggers we liked, do take a look at their profiles and let us know what you think.