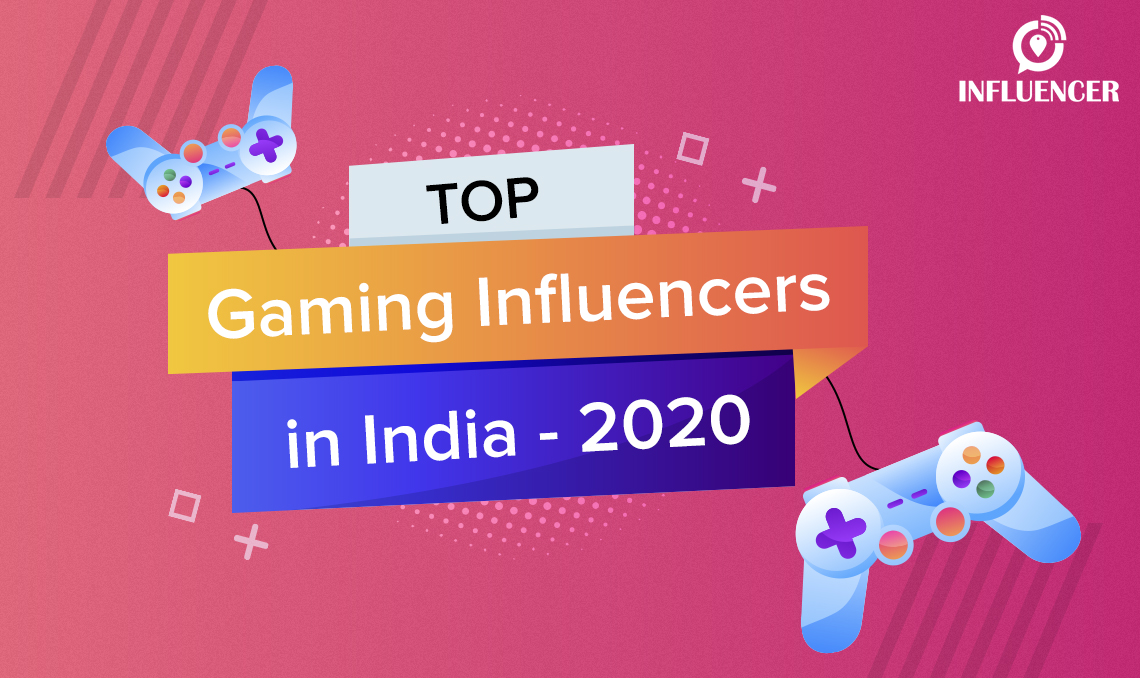 Top Gaming Influencers in India in 2021
Author: Sayantan Rudra
|
Updated Date : August 16, 2022
If you are someone who just absolutely loves playing games and battling it out with your fellow gamers or a brand who is looking for the right people to promote your game to the target audience, then this is the perfect read for you. Influencer.in has compiled the list of the top gaming influencers in India who also have great Instagram gaming profiles. Look at how you can leverage the right kind of influencers for the right stages of the marketing funnel.
These YouTube gamers are not only brilliant at what they do but also are amazing entertainers as well. The live hilarious commentary in their live sessions on their gaming YouTube channels is something that will keep you entertained throughout. If you aren't sold on the impact of influencers, check out some of the best Indian influencer campaigns. Here's a list of these incredible gaming influencers who are just magnificent at what they do:
Ajey Nagar
 He is popularly known as Carryminati and has about 21.3 million subscribers on YouTube. This YouTube gamer is famous for his distinctive and energetic Hindi commentary which is enjoyed the most by his audience. He started his YouTube channel when he was 10 years old and has grown massively since then. One of his videos, YouTube vs TikTok went viral which was later removed by YouTube. He gained over 4 million subscribers in less than 2 months through this video. He has another channel called CarryIsLive where he posts his gaming videos. He is one of the best gamer YouTubers in India and is someone you should seek to draw inspiration from.
Aaditya Sawant
 With over 7.5 million subscribers on his YouTube channel known as Dynamo Gaming and 1.7 million followers on Instagram, Aaditya Sawant is one of the best growing Youtube gamers in India. He is popular for his PUBG live streams and few other games like Dota 2, GTA V and Battlefield. He earns about 3-4 lakhs per month from his streaming career.
Chetan Chandgude
 He is the founder of Kronter gaming which has more than 1.8 million subscribers on YouTube and 302K followers on Instagram. He also owns a PUBG Mobile e-sports team by the name of GodsLike Esports. He earns his income not just through the live streams on YouTube but also through AdSense, Paytm/Gpay donations, and membership. His presence on YouTube makes him a one of a kind YouTube gamer in India.
Nischay Malhan
 He is better known as Triggered Insaan which is his YouTube channel having a subscriber base of over 4 million. He is famous for his roasts, rant, and reaction over his videos which gives you a hearty laugh. However, he uploads his gaming videos on another channel called Live Insaan which has over 2 million subscribers. Nischay's gaming YouTube channel is one that you can't miss out on.
Ronak Makhodia
 He started his gaming YouTube channel called Ron Gaming in 2016 and currently, it has more than 3.2 million subscribers. He is popular for his PUBG games as he plays it on an emulator. He owns a clan called 'Eagle' which is growing every day. His Instagram gaming profile has many videos and tips on how to play these games.
Shubham Saini
 His YouTube gaming channel called BeastBoyShub is known for its professional gaming skills and humorous live commentary. He started his career by playing Counter-Strike: Global Offensive and VGA facecam and currently have more than 3.4 million subscribers. He plays games in multiple genres and is very popular in the gaming community.
Naman Mathur
 He is one of the popular gaming influencers who is from Mumbai. He owns the channel on YouTube called MortaL which has almost 5 million subscribers. He streams PUBG mobile every day for a few hours on his channel which usually has a lot of followers watching it. His channel recently had sponsorship from leading brands like OnePlus and Omlet Arcade which was a big boost.
Aditya Sharma
 He is a 20-year-old professional PUBG player who owns the YouTube channel called Casetoo where he uploads the game's tips and tricks. Aditya has more than 1.9 million subscribers and 245k followers on his Instagram gaming profile. 
Ishaan Khedkar
 With over 2.1 million subscribers, his channel on YouTube called OneSpot Gaming is the perfect place for all the GTA 5 and GTA gamers. He uploads compilation videos which include funny moments, epic stunts and more from the games. His identity was a mystery until he recently revealed it on his Instagram gaming account.
Ronodeep Dasgupta
 His YouTube channel, The RawKnee Games has over 1.8 million subscribers and is popular for his hilarious commentary during his live streams where he roasts the fellow characters and creates some really funny situations in the game. He has 318k followers on Instagram where he actively puts out engagement posts that are widely participated by his audience.
@8bit_thug. Animesh

.
A gamer with a vision of inspiring youngsters to take up gaming as a profession, this gaming influencer has spent about 3 years in the gaming arena representing India in e-sport events. Having a lot of success in the gaming world, this influencer also has experience building his professional team. He also partnered with another influencer Mortal, to build their teams.



Carry Minati
Known for having transformed the online gaming, he was the first to start streaming live videos of playing games. Since then many have followed his footsteps and started streaming in a similar fashion. He plays and explores various types of games.



OneSPot Gaming
It has over 2M subscribers on Youtube. They primarily focus on GTA.  majorly focus on creating amazing GTA5 and GTA videos. In their content is also an interesting mix. They are also sometimes do comparisons besides funny content and stunts.
Gyan Gaming
A popular among many Gaming fans and is a  channel on Youtube. He is popular for sharing gameplay videos of many games including Garena Free Fire matches with live commentary in Hindi. Launched in 2017, this channel has over 3M subscribers and continues to grow.
15.Sunil Gamer
Sunil mostly does content on PUBG but also explores other games once in a while. Having around 2M subscribers, this is a very promising influencer who continues to grow and has a long way ahead.
Sukhchain Singh
Singh has close to a million followers and continuously gives updates on the latest news in the gaming world. He also streams while playing games and makes some fabulous content. He is also known to through channel gives android games latest news, tips, tricks while playing and creating amazing videos. He is popular among his fans for sharing tips and tricks for playing.
Bhuvneshwar Kumar
This India cricketer and Influencer has over 2.6M followers on his Instagram account @iambhuvi. He talks about various sports including Cricket and Football. His profile also gives insights into the Indian Cricket team with photos of other players too. like 6 million followers on his Instagram profile. Being an Indian cricketer, he likes to talk about various sports like Cricket, Football, etc. If you visit his profile, you will find various pictures and activities from the Indian cricket team there.
Harnit Khatri
Popularly known as Gunshot among his fans. He streams games and is a full-time professional gamer. One of the top gaming influencers in India, he has around 300K followers on his Youtube channel. He primarily focuses on Pubg and one can find all details of the hacks and tricks around the game on his channel.
Raman Mathur
He is known for reviewing and great creating videos of Pubg. He also reviews other games on his Instagram channel. He is a popular Pubg streamer and enjoys the respect of being one of the finest players of Pubg in the world. He has a unique style of content and commentary which is a hit among his followers.  For a Pubg fan, this is a must-follow account.
Ankit Panth
He is a full-time gamer and a brand ambassador for many gaming platforms. He has over 20K followers on Instagram. He is also the founder of Teambrutality, a sponsored Esports organization in India. He also collaborated with other influencers and endorses brands. He has a great style and approach which has also got him featured in various magazines in India and abroad.
Rishab Karanwal
With more than 52K followers on Instagram, Rishab has inspired his fans through his great content and style. A must-follow account for every gaming enthusiast. He also endorses various gaming platforms and some famous brands like Red Bull, Intel, etc.
These gaming influencers have definitely created abuzz in the gaming world. These were the 20 we liked, tell us more about your favorites