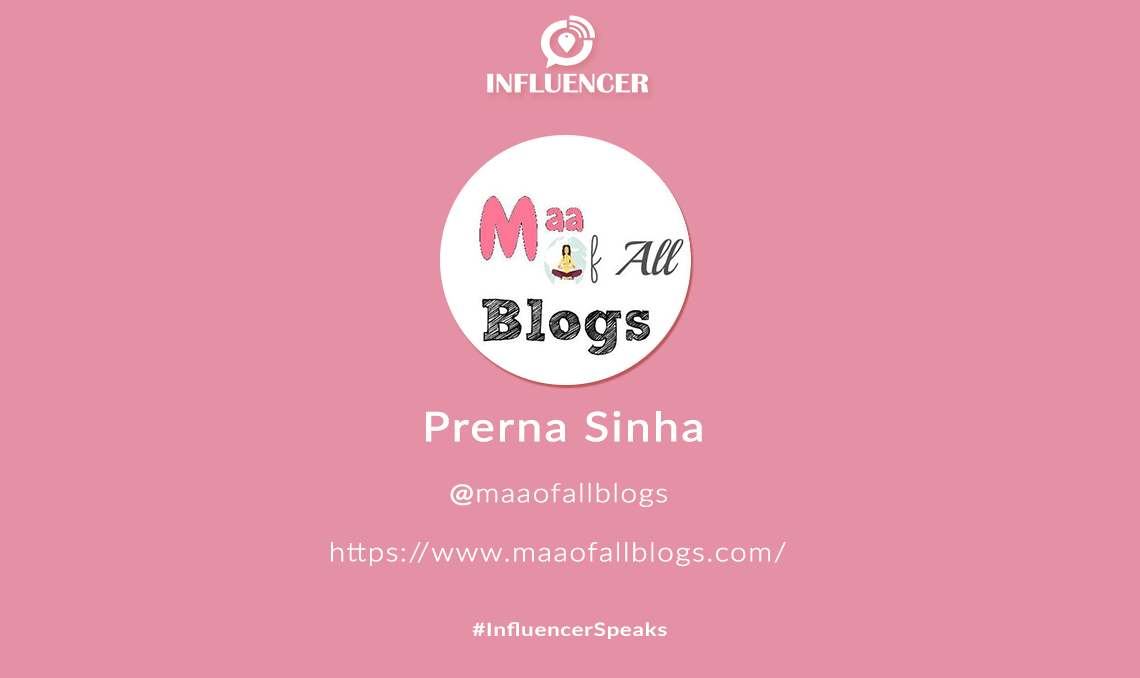 Influencer Interview – Prerna Sinha
Author: Radhika Chhabria
|
Updated Date : February 21, 2022
As a part of our #Influencerspeaks series, we bring you some interesting insights into Influencer Marketing. This week at Influencer, we interviewed Prerna Sinha from Maa of All Blogs. Her Blog has interesting ideas on parenting. Apart from being a good parent, Prerna believes and encourages every mother to look at life beyond parenting. On her blog, she discusses various topics around Motherhood, Travel, Fashion, Beauty, & Fitness. Here's what she had to share about her journey:
1. Can you please tell us a little bit about yourself and your Blog?
I am a mommy of two boys, a yogini, an avid traveller, and the founder of MaaOfAllBlogs. This pretty much defines me. There are many mommy blogs around, but mine is focused on mothers. While I do talk about kids, I like to inspire mothers not to let themselves go as their sanity is most important for a happy family too.
2. What did you do before Blogging? Who inspired you to share your stories?
I have studied Fashion Designing and was working with Future Group in their kidswear department as a buyer. When I left my job, I had a lot of time on hand. While I pursued various hobbies and travelled to make most of it, I felt I needed to write to get those grey cells ticking and share my experiences with other mothers. By the time I had my second kid, I was a more hands-on mom and looking back at all the times when I used to be a clueless one. I wanted to let mothers know that motherhood is not rocket science and they could work their way through it, especially the new mothers. When friends started complimenting me on my posts, that's when I decided to get serious about it.
3. What distinguishes your Blog from other Parenting Blogs?
My blog is for the woman in every mother. When you become a mother, you tend to let that woman in you, fade away slowly. I have seen my mother go through this phase. When we grew up and were busy in our lives, she didn't know what to do with that time and went through depression. She was not the only one to go through this. I saw my friend's mother struggling too. I do not want any woman to go through this. This is why it is so important for a mother to focus on her individuality and happiness.
4. Since your work involves being with your kids, what are the advantages and the drawbacks of involving your children in your profession?
My kids love the perks that come along with this profession. They get to be models and get the latest toys and clothes. They love to show them to their friends too. They are very creative, a lot of times I discuss ideas with them, and they help me shoot as well. My elder one has written a few travel posts as well for my blog, and my younger one is a performer. I love the fact that they enjoy it and explore their creativity. However, there is a balance I need to maintain.
A)It should not come in the way of their studies
B)There is always a risk to overexpose them to the social media. I do not share too many details online and do not prefer taking their pictures for my posts.
5. Motherhood is full of challenges. What are the challenges you face on a daily basis?
I think my current two big challenges are getting them to sit and study without getting distracted & to get them to eat their food on time.
6. Which are the other Parenting Blogs you follow and would recommend to your readers?
I like to read Heather's posts from mommypotamus . She is very natural with her writing. Also, she was one of the first few blogs I read and continue to follow. Among the Indian Mom Bloggers, I love Shruti's DIYs and crafts at artsycraftsymom. She is very creative.
7. What would you consider to be your biggest achievement in your journey so far as a Blogger?
My Blog is listed as a Top Parenting Blog in India in the last few years on various websites. This has given me the assurance, and I feel very proud of it. Also, when strangers praise my blog, I feel accomplished.
8. What do you enjoy the most about being a Mother?
The adulation I receive from my boys. I hope this lasts :).
9. Can you please tell us a little bit about your recent collaborations with brands and some interesting work in the pipeline?
Over the last few years, I have collaborated with over 50 brands or more and am still working with most of them. This trust keeps me going. We have a fitness, parenting and nutrition expert associated with us and run a few workshops along with them for women & kids. We are also trying to do free workshops for NGOs as 'seva'. On my blog, I also talk about fitness and recently have collaborated with FitLifestyle to launch #FlabToFabWithMOAB which is a 30-day programme to lose fat. We have run two successful seasons with them and will be launching season 3 soon. We have received an overwhelming response from our readers, and this has brought in new subscribers as well.
10. As a full-time blogger, what are the challenges you face?
Trying to manage my time. As a full-time blogger you have to maintain many social media accounts, go for events and write. This takes a lot of time & commitment. With two kids, this can get difficult at times.
11. If you had to share 3 tips with your fellow Bloggers who are just starting out in the Parenting space, what would it be?
1. Be consistent as more than 70% bloggers start with great gusto and then lose it somewhere along the way.
2. Be authentic- Everyone is writing on parenting, authentic stories will set you apart.
3. Stay dedicated- Treat it like a job and invest your time in it. The more committed you are, you will see better results.
12. Apart from your child, who would you like to thank for being a part of your journey so far as a Blogger?
My friends and readers. Every time I have almost given up, they have encouraged me with a phone call or a message, and this has kept me going. Blogging can get very lonely if no one lets you know they are liking what they are reading. I have been lucky that way.
13. Finally, what are your thoughts about Influencer.in? Would you prefer engaging with the brands directly or associate with platforms like ours?
I think platforms like Influencer.in help us connect better with more brands. They understand our capability and brands demands and match the two effectively.