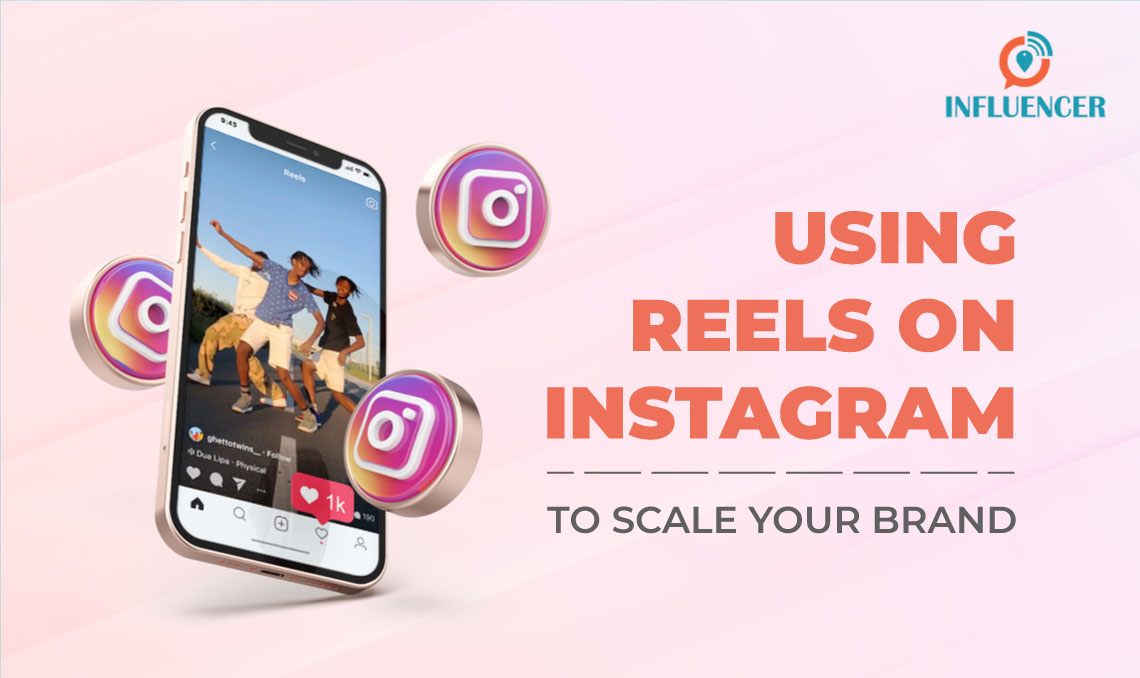 Using reels on Instagram to scale your brand
Author: Parinita Venkat
|
Updated Date : February 18, 2022
Although it took 2 years for Instagram to surpass 1 billion active users, TikTok only took 1.5 years. TikTok stands to be the most successful example for short video-based platforms. App developers everywhere realized the potential of short videos, leading to the rise of many similar platforms/features on existing apps.  Reels on Instagram was one such feature that was developed to stay on par with TikTok.  In 2020, TikTok was banned with several other Chinese apps and the Instagram reels feature garnered more interest as a viable substitute, both for marketing and entertainment. 
Fast forward to today, it is the most effective feature to amass both organic and paid traffic for brands and influencers. All of the recent best social media campaigns involve reels on Instagram. So, how do brands leverage reels to attract more users and engagement? In this blog, we will discuss how to create viral reels and how to analyze insights to scale your brand to the next level.
How to create viral reels: 
Creative hooks-

Creating an interesting hook is one of the most important social media marketing tips. It is ideal to produce a hook that is no longer than 7 seconds. So, keep hooks concise and creative while uploading reels on Instagram. 
Quality is everything-

High-quality video and content will not only establish your brand as a thought leader but tempts the user to share/save it, thereby increasing your reach and engagement. Provide content that is beneficial and is your niche. If you are including subtitles or supers on your reel, ensure they are not hidden by the engagement features upon uploading. User readability is an important social media marketing tip to keep in mind while uploading reels on Instagram. 
Hashtags for the win:  

One of the most important marketing tips for Instagram is adding relevant hashtags. Creators and brands are allowed to use 30 hashtags for all formats, however, inserting irrelevant hashtags may mislead users affecting brand credibility. Therefore,  use the right hashtags. Including tags associated with reels is an effective technique to increase your reach. Eg: #reeitfeelit
Consistency is key:

The best social media campaigns are formulated upon experimenting and understanding user behavior. It is imperative to post reels on Instagram regularly. This increases your reach and helps your brand understand the user's expectations and interests.  
Be viral to go viral:

While it is of utmost importance to create original and authentic content, you can also add viral elements using trending songs, memes, filters, etc to stay relevant and increase brand awareness. 
Analysing insights on Instagram reels feature: 
One of the most important social media marketing tips is to meticulously check how your content is performing. Following your insights can truly transform your brand because it equips you with the knowledge of what is working for your audience. Here are the most important data points you need to know: 
DISCOVERY: 
Accounts reached- The number of unique users who saw your reels on Instagram on any given day. 

Plays- The number of times your video starts to play after an impression is already counted. 
INTERACTIONS: 
Likes- The number of likes on your reel

Comments-The number of comments on your reel

Shares-The number of shares on your reel

Saves-The number of saves on your reel
It must be noted that the new Instagram algorithm values saves and shares more than likes and comments. The new Instagram algorithm shows your content only to a small percentage of your audience and analyses how users interact with the content. Depending on the engagement, it shows it to more and more users.  So, encourage users to engage with your content through stories as you post. 
Enabling ads through Instagram reels features: 
Instagram allowed businesses to create ads through reels only recently (June 14). Reels ads will be full screen and vertical. Their format will be similar to Instagram stories. These ads will appear between individual reels. Although unsponsored reels can be up to 60 seconds, ads can only be up to 30 seconds. Instagram allows reels to appear on the reels tab,  in stories, in explore, and on your feed. You can try different formats for your advertisements such as brand values, product awareness, humorous content, etc to understand which format works the best for your brand. 
The takeaway: 
In a nutshell, leveraging reels is an excellent way to expand your customer base. According to several studies, reels bring in excellent engagement and increase your reach organically.  Ensure that your reels are authentic and relevant. Do back up your reels with the right hashtags. Try different formats for both paid and unpaid content. Keep a close tab on your insights to understand audience engagement and most importantly be consistent and patient. Surely but slowly using these techniques your reels on Instagram will obtain great results. 
___noise___ 1000