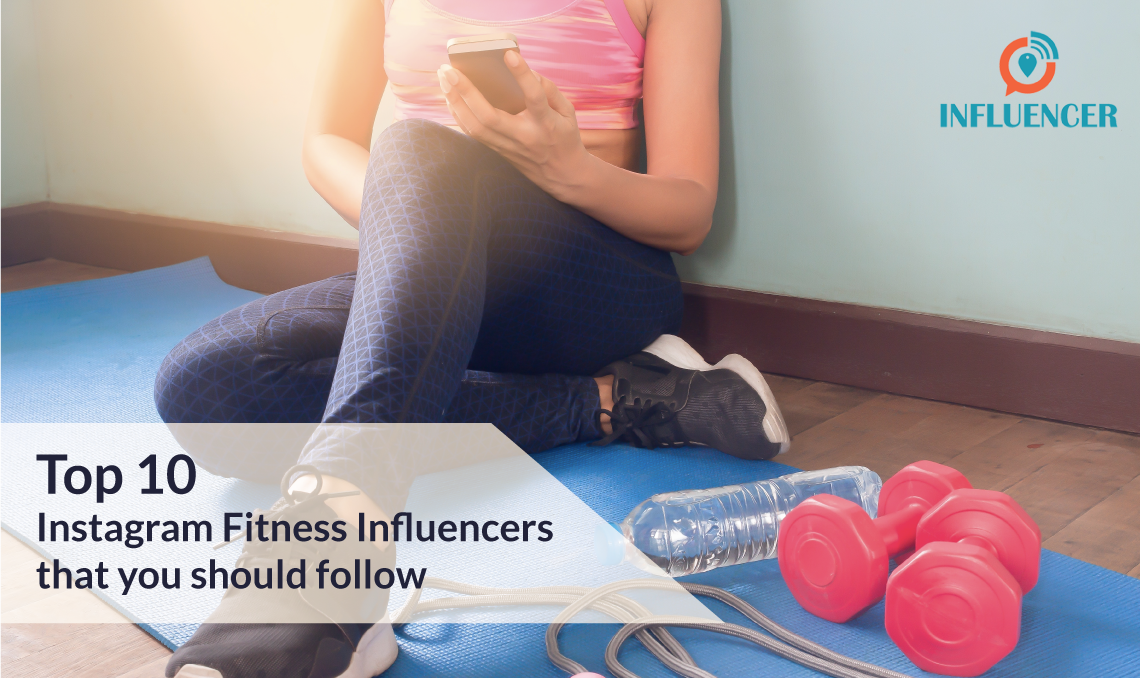 Top 10 Instagram Fitness Influencers that you should follow
Author: Radhika Chhabria
|
Updated Date : February 21, 2022
To include exercise in your daily routine can be a challenge. Following an exercise is easier when it is pictorially represented and Instagram is the right place to look for it.
Keeping this in mind, we have put together the top ten Instagram fitness Influencers that you should follow. We are sure by the end of this article; these ten fitness enthusiasts would inspire you to put on your shoes and take a jog!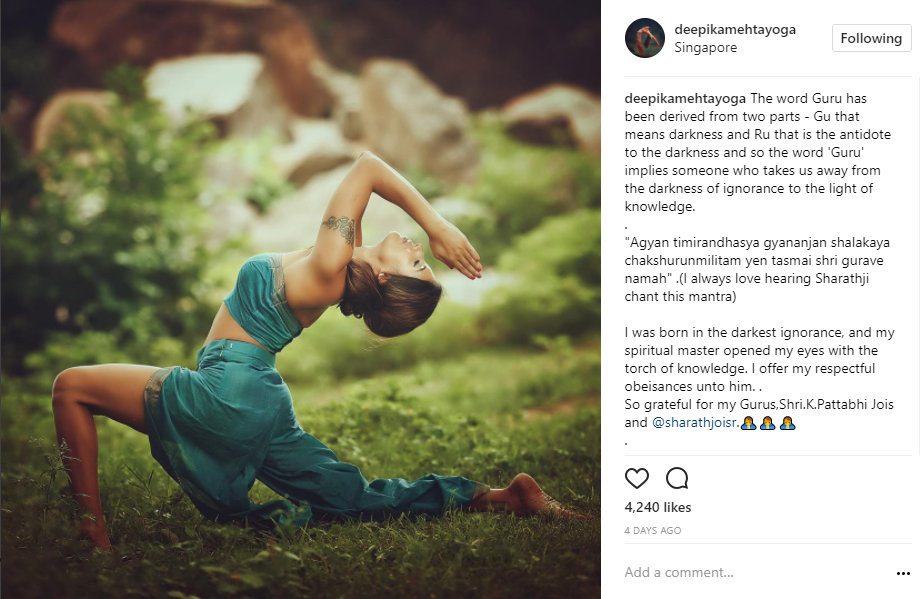 A well-known yogini and professional fitness expert, Dipika Mehta has hosted her television yoga show called 'Yoga City' on NDTV Goodtimes. While Deepika's main form of fitness is Ashtanga Yoga, she also spends time on martial art routines, dance forms and western workouts. With 106,000 followers on Instagram, she has been featured in Vogue, Elle and other publications as the face of various fitness campaigns across the country. Currently, Deepika spends most of her time hosting workshops, within and outside of India. Her serene solo Instagram posts is a testimony to her travel diaries.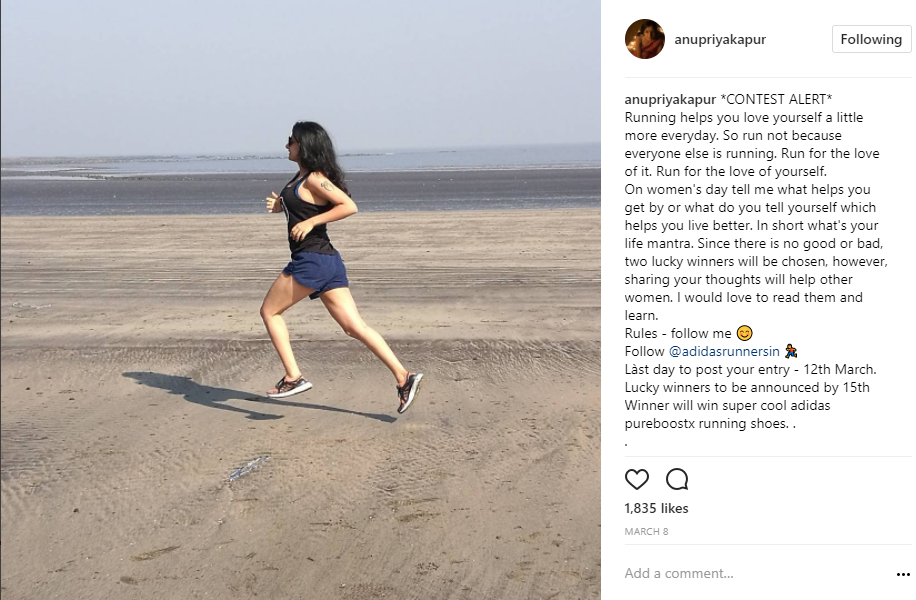 Anupriya's Instagram handle is about sharing soul touching experiences and motivating people, especially women, to take charge of their physical and mental well-being. Since she is passionate about sarees and handlooms, so a lot of her Instagram posts are on that. She believes that one can tackle anything in life with a fit body and mind. She has worked with many well-known brands like Adidas, Reebok, Cosco, Samsung, Epson, Kellogg's, Novotel, Myntra, Maruti Nexa, Decathlon, Xiomi, GAIA, Panasonic. She dedicates 3-4 hours every week to her workouts. She has been a guest author with papers such as The Hindu and various National Dailies have covered her blog.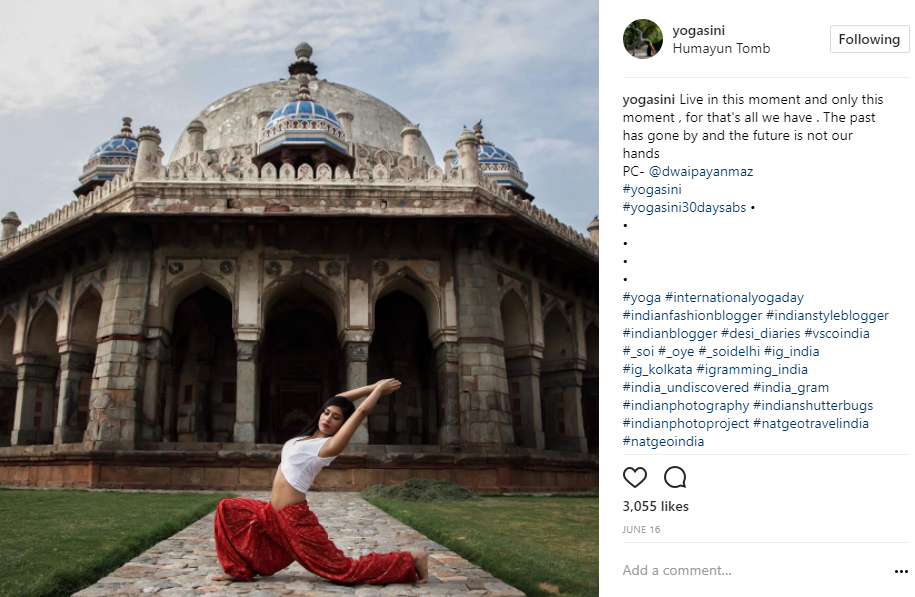 Through her Instagram handle – Yogasini, Radhika covers her daily yoga routine and spreads the joy of practising yoga. She holds fitness challenges every month, encouraging her followers to take part in it and adopt a healthier lifestyle. Her Instagram handle also has a few posts on Lifestyle and Fashion. Elle Fashion Magazine and Delhi Times have featured Radhika and her achievements. She has also worked with brands such as Koovs Reebok, Eska, Stretchary, Kellogg's, Horlicks, Myntra, Kaya Skin Care amongst others.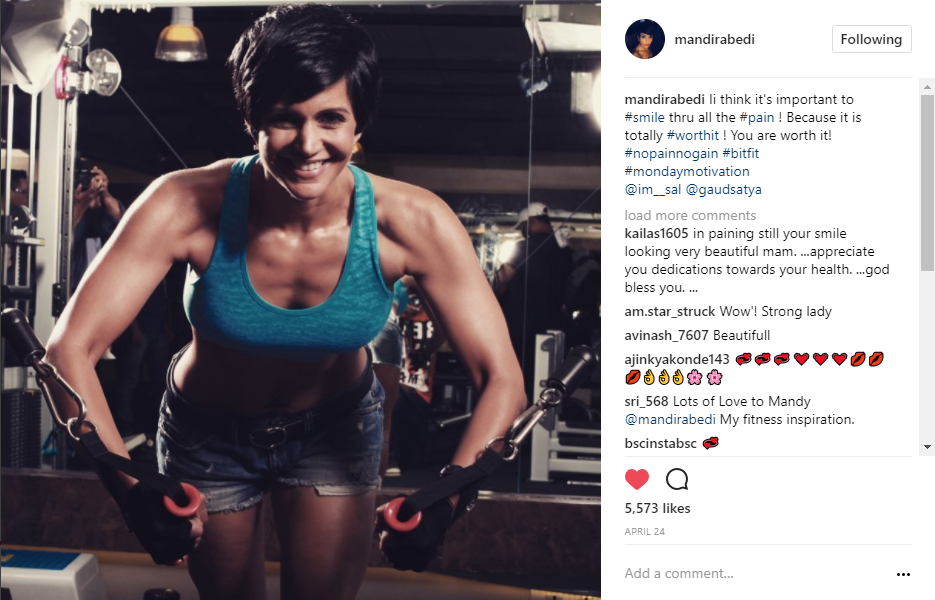 From an actor to an anchor, model and then a designer and a budding entrepreneur, Mandira has always been a fitness enthusiast. Owing to her love for cricket, she was entrusted with hosting duties for ICC Cricket World Cups, Champions Trophies, and the IPL. Mandira Bedi is a fitness freak, as is evinced by her highly motivating Instagram pictures and workout videos at the gym. She works out at least five days a week. She also enjoys running, swimming and playing sports. In 2013, she launched her brand of sarees, named Mandira Designs. She debuted as a fashion designer during Lakme Fashion Week 2014.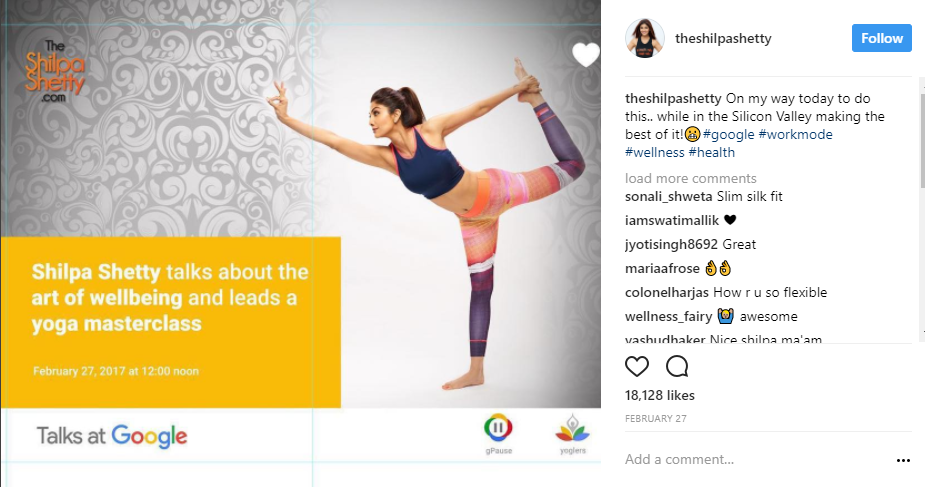 Actress, producer, model and businesswoman- Shilpa Shetty is a fitness inspiration to all age groups. Shilpa was recently invited to Google to take a yoga session for the Google team in San Jose. She has also taught 'Pranayam' at Facebook. Shilpa hosts a cooking show on YouTube called 'The Art of Loving Food' and also has a fitness video channel which she calls 'The Art of Strengthening.' Mrs. Shetty is an ardent practitioner of yoga and also does some rigorous strength training exercises to keep herself fit. Recently, she was named the brand ambassador of the health drink, Yakult. Her Instagram feed is a mix of jaw-dropping fitness goals and the occasional diet tips.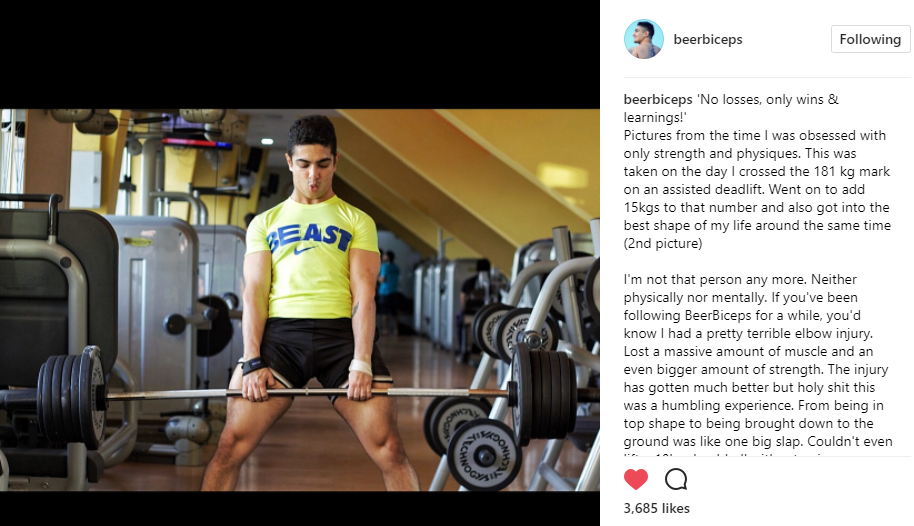 Ranveer from BeerBiceps covers fitness, positivity, fashion and motivation tips on his Instagram handle. He is a certified fitness coach. Ranveer believes that there should be a balance between cheat meals, fun, exercise, fitness and healthy choices. His fitness regime is about power bodybuilding, which combines powerlifting movements for strength with bodybuilding movements for looks. Ranveer has given a TED talk and is a fellow member at GOQii Health Ecosystem.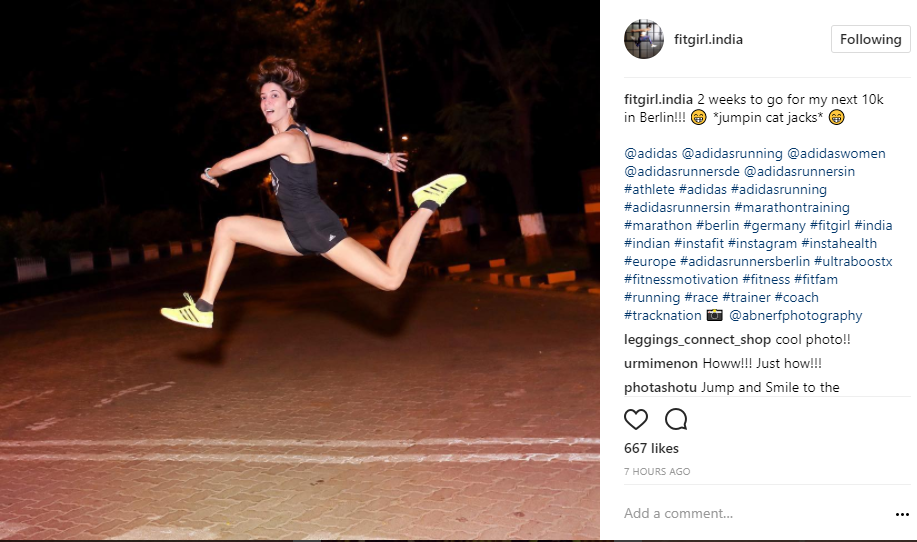 Ayesha from Fit Girl India is an athlete, national-level sprinter and ambassador for Addidas. She also trains people to run, understands their bodies and believes in creating 'thinking' athletes rather than 'following' athletes. She believes that consistent exercise, proper sleep and a healthy diet are key to a good lifestyle. Her Instagram feed covers her daily exercise routines and training sessions. She was recognised as the 'Fastest Girl 2001' and has won various awards for running.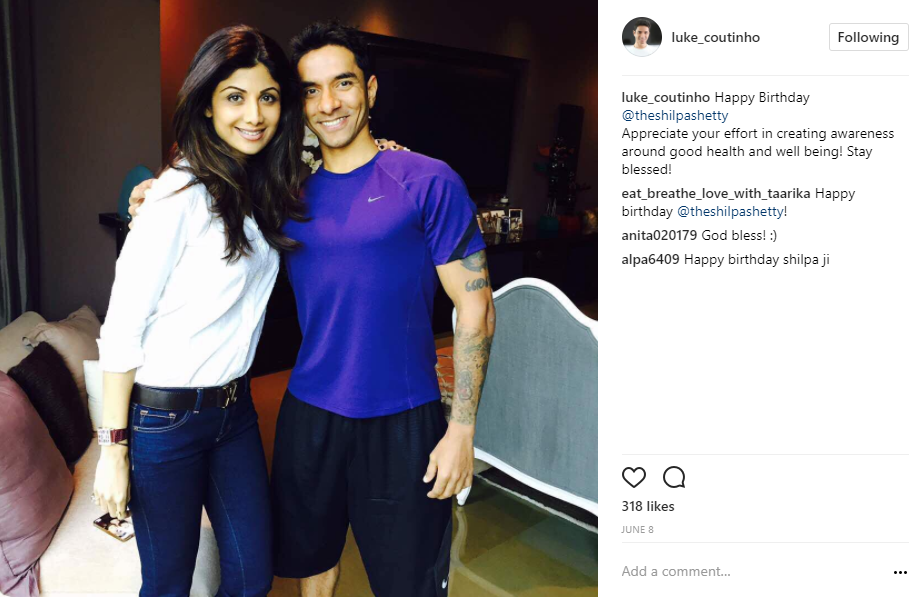 Celebrity nutritionist and co-author of 'The Great Indian Diet', Luke Coutinho helps his clients to alter their physical behaviour and movements to live a healthier life. He is the brain behind the health ecosystem platform, GoQii. His Instagram posts are mostly around healthy diets and informative exercise tidbits. Luke has a global clientele of all age groups and is the founder and director of 'Pure Nutrition', well known for their wide range of organic health products.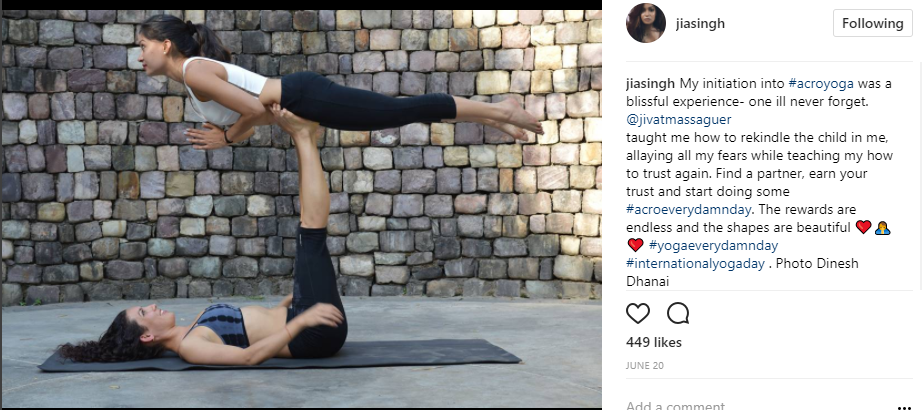 Jia Singh is food and wellness consultant. She has over 19,000 followers on Instagram and usually covers food, travel and wellness. She also blogs on wandering for wellness and cover similar topics like health, wellness, positivity, fitness, travel destinations, etc. She is the founder of 'Petite Sweet Eats', a healthy sweet snacks company that are gluten-free yet tasty. She also writes for leading magazines in India and abroad in the health and wellness space.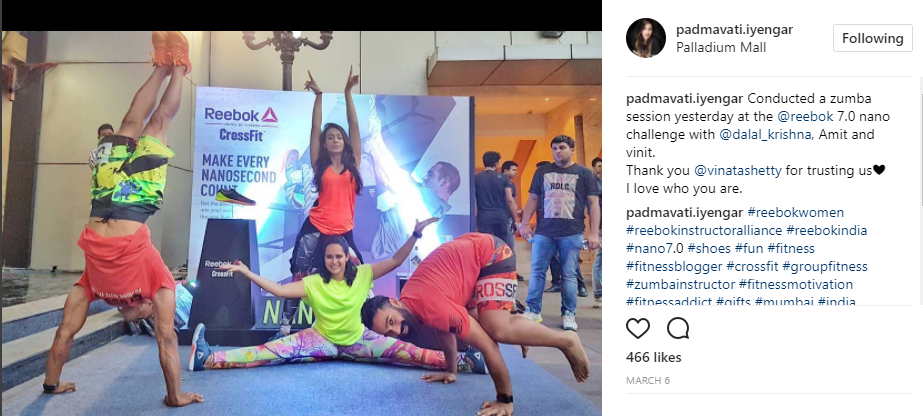 Padmavati Iyengar is an internationally licensed Zumba fitness instructor and believes in spreading positivity through fitness. She is the winner of a Doordarshan dance reality show called 'Krazzy Kia Re'. Before teaching Zumba professionally, she has had modest successes in acting and modelling and has been featured on the cover of Brunch Magazine. Apart from being a Reebok fitness instructor, she takes Zumba classes in Mumbai. Her Instagram handle is a mix of her travel experiences and Zumba videos, giving her fans a sneak peek of her Zumba camps.
Have we missed out any fitness influencers? Do let us know in the comments section below.