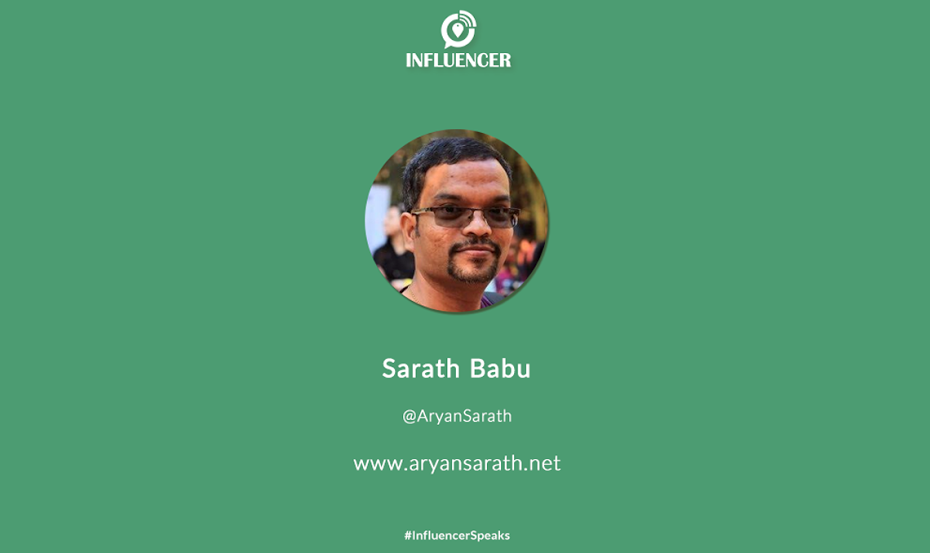 Influencer of the Week – Sarath Babu
Author: Sayantan Rudra
|
Updated Date : February 21, 2022
As part of the #InfluencerSpeaks series, we bring you the interviews with top influencers across India. This week, we are featuring Sarath Babu, a social media influencer. Here's the transcript of his interview:
Please tell us a bit about yourself and your blog/online presence
I am born and brought up in Chennai. I hold an MBA and MCA Degree. I am a fellow member of United Writers Association of India. I have worked with TCS, HSBC, Indian Express, ING Vysya Life Insurance before taking up social media, full time. I started blogging in 2010 and struck the chord by winning all India 2nd prize for a blog post from then then US Consul General Ms. Jennifer McIntyre. Ever since, I started writing various blog posts. My blog has viewers from more than 70 countries and has got more than 275 blog posts. My style is to write a detailed blog post on any topic I choose. I have won various prizes and awards for my blog posts and I can safely say that most of the high-end gadgets that I use were earned from writing these blogs. I blog at daffodilstouch.wordpress.com
How did you get started online? How has the journey been?
I started as an online player. Initially I had won few contests and got some gifts like Team England, New Zealand, ICC Player of the Year Autographed Bats, Boris Becker autographed cap, few gadgets and also a after match party meet with Kolkata Knight Riders. This was in 2011. After that I slowly started focusing on becoming an Influencer. I was helped by a good friend in Mumbai who helped me understand the basics and the concept
What type of content do you create?
I create content on most genre and I love food reviews, book reviews and technology. I create my own content, which is unique and different from each other. I believe in this, "When your content is unique and good, it creates better user engagement."
Tell us something about the most interesting projects you have engaged with.
There are five of them of them which I can recollect instantly.
Godrej ran a campaign, #AliveIsAwesome and I was the first to be shortlisted for my idea. I got a chance to play with Virat Kohli personally for two overs.
Honda which gave me an opportunity to drive their Jazz in Buddh International Circuit – BIC and I got this opportunity through BlogMint which I will not forget in my life.
Fosters gave me an opportunity to travel to Leh-Ladakh for eight days – a fully paid trip and I got to see some breath taking spots including a stay for 2 nights in Boat House in Dal Lake, Kashmir. The video they created after this went viral with the trailer vidoe hitting 51k YouTube Views and the main video hitting 261K YouTube views.
Ola who gave me an opportunity to play one on one with World No.4 Tennis Player Stanislas Wawrinka in Chennai Open which I still think is a DREAM come true!
I partnered with Murugappa Group for the Chennai Open 2014 and got to watch both Semis and Finals sitting in the front row. They also gave me the opportunity to witness Margazhi Utsavam and most importantly, a meeting with Mike Hussey when I had won their T.I. Cycles contest.
Which brands have you associated with in the past?
There are a lot. As an infleuncer and as a contest host, I have been associated with few brands which include: Bharat Matrimony, Fosters, Cadbury, Godrej, Flipkart, Pepsi, Shopclues. Jabong, Snapdeal, Honda, Ford, Mercedes Benz India, LG India, WB India, Star Group including Star Sports,Star Vijay to name a few from the long list.
Where do you see opportunities and challenges in being an online Influencer?
Opportunities are unlimited. It is spread across wide spectrum and it includes travelling as well. At times, you would also be pulled down by many in social media platforms. This is the biggest challenge however,
you can convert this challenge into an opportunity by making them realize that their notions are incorrect, at times.
Any thoughts or tips to share with your fellow Bloggers and Influencers?
You can start any time. Try to dedicate full time to be really successful.