Influencer of the Week – Chandana Munipalle #InfluencerSpeaks
Author: Sayantan Rudra
|
Updated Date : February 21, 2022
As part of the #InfluencerSpeaks series, we bring you the interviews with top influencers across India. This week, we are featuring Chandana Munipalle, a social media influencer. Here's the transcript of her interview: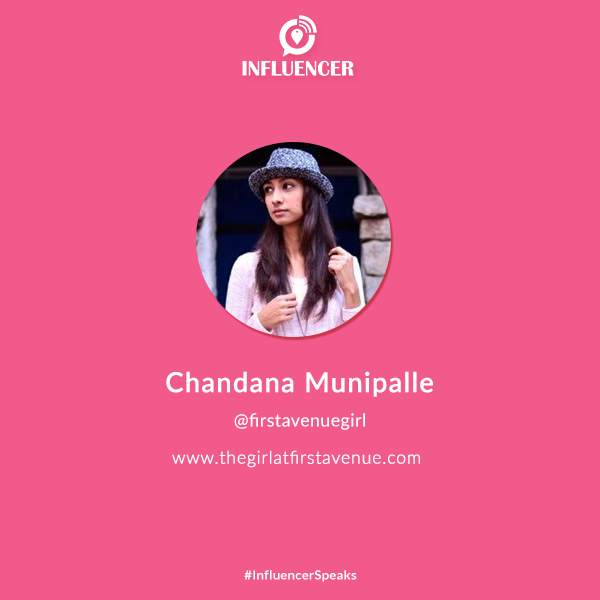 Please tell us a bit about yourself and your blog/online presence
I am Chandana Munipalle, I am based in Hyderabad and I am a fashion & lifestyle blogger at TheGirlAtFirstAvenue. My blog is one the first & the top fashion blogs in Hyderabad, and among the Top 20 in India. It is a style blog + creative content lab. We create visual stories for designer, brands and publications, stories that are unique & aesthetic, by drawing inspiration from the designer/brand, the products and their vision. As an individual I am always looking to push boundaries and think beyond the norm, and I try to extend the same principle towards my creative work.
How did you get started online? How has the journey been?
The Girl at First Avenue started off as a hobby blog, documenting my thoughts and musings. Soon it grew to be an influential online presence, popular for featuring modest, simplistic styling that can be worn and carried by the everyday girl. The journey has been great with a lot of learning and wonderful experiences along the way. I have had the privilege of collaborating with brands and designers that I admire, I have met such talented and creative people along the way, and every day has been a wonderful learning experience.
What type of content do you create?
I do various kinds of content. The Girl At First Avenue is one of the few websites that offers two services that go hand in hand – brand/product promotion + (exclusive) content creation. The platform has been built to provide style ideas, tips and a visual diary of inspiration. For brands we work on creating look books, editorials, creative art directed photo shoots, social media campaigns, outfit stories, videos and more! It all depends on what the brand wants and how best we can convey it to their audience and at the same time add a personal touch to it by keeping it in sync with the voice of our blog.
Tell us something about the most interesting projects you have engaged with.
Every project has something different and unique about it. Working with a start-up is one experience and working with a high end multi-store brand is another experience altogether. The best projects have been ones where I have been given complete creative freedom, to explore a brand's story through styling and photography. I've done work for Topshop, Gehna & Limeroad to name a few.
Which brands have you associated with in the past?
I've worked with brands like Label Ritu Kumar, INCOCU, Gehna, Topshop, Limeroad, Indian August and more. Also top beauty brands like VLCC India, TIGI, Garnier. I have also worked with technology brands like ASUS.
Where do you see opportunities and challenges in being an online Influencer?
There is tremendous opportunity in this field. You can go as far as your creativity takes you. As long as you develop your own unique voice and stay true to it, people (readers and brands alike) will find it easier to identify with you. But the blogging industry as such is hardly a decade old in India and is still picking up. So sometimes the challenge lies in making brands understand the potential of such collaborations. Often brands are unaware of the opportunities, sometimes there is no budget and sometimes they just don't care. Being a freelancer means payments don't usually come on time! The biggest challenge, of course, is to multi-task. When you are a blogger/influencer you are constantly wearing different hats. You are the writer, editor, stylist, director, social media strategist and more. So you need to learn to be disciplined and multi task like a pro!
Any thoughts or tips to share with your fellow Bloggers and Influencers?
There is no overnight success. If you are passionate about what you do, believe in it and put in lots of hard work, you can be successful! Capitalize on your uniqueness and forget about gaining followers or numbers. Do good work and everything else will automatically follow!