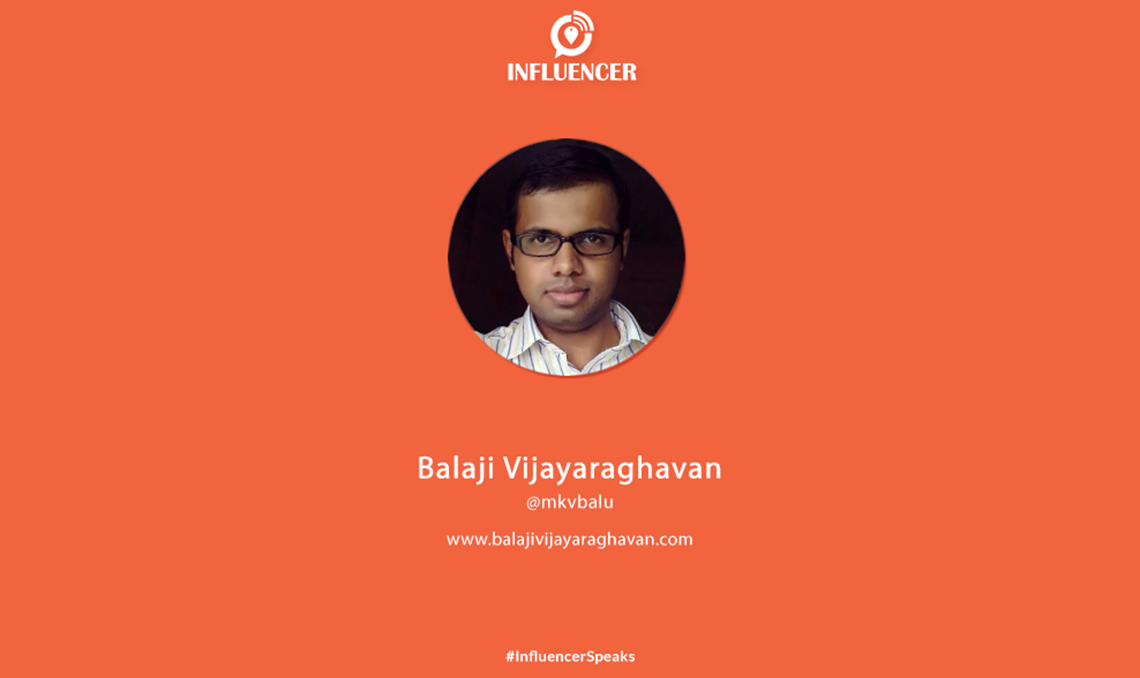 Influencer of the Week – Balaji Vijayaraghavan #InfluencerSpeaks
Author: Sayantan Rudra
|
Updated Date : February 21, 2022
As part of the #InfluencerSpeaks series, we bring you the interviews with top influencers across India. This week, we are featuring Balaji Vijayaraghavan, a Twitter & social media influencer. Here's the transcript of his interview: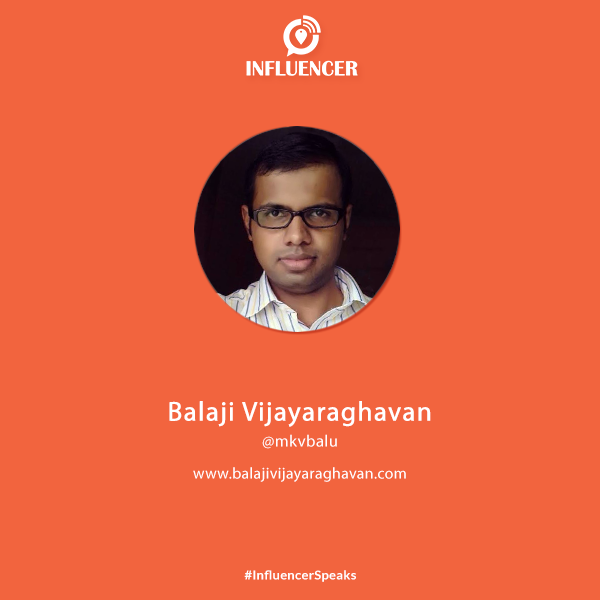 Please tell us a bit about yourself and your blog/online presence
On the lighter side, I am an excessive talker, ethical stalker, eloquent writer and an endless bragger. Social Media is all about being so, to be brutally practical. I realized that 'branding' is the key to success, be it a person or an entity. Therefore, I focus on a 360 degree online visibility for myself and it is established only when the thought-leadership on a certain domain is exhibited, for which blogging is the key.
How did you get started online? How has the journey been?
Media, Advertising and Marketing – found these three interesting. Back in 2013 when I saw Social Media being a major tool for marketing, I wanted to know how people work on strategies for such an impulsive medium. I am still learning it, and that thirst to learn makes me stay alive and bright.
What type of content do you create?
I don't restrict myself to a specific category. But, 'Social Media & 'Branding' as domains are where I have made a lot of noise. I'll be handy for categories like technology, marketing, design, activism and sports.
Tell us something about the most interesting projects you have engaged with.
I have been a part of trending campaigns like #KFCKitchenTours, #SMWBangalore, #SMwill and so on. I have also built online marketing strategies for Lalithaa Jewelers, Vijaya Optical House and two other brands, which I can't disclose.
Which brands have you associated with in the past?
Pizza Corner, KFC, Jim Beam, Social Media Week are few of the brands.
Where do you see opportunities and challenges in being an online Influencer?
E-Commerce, Travel and Food sectors have great opportunities while spotting a right influencer is the biggest challenge.
Any thoughts or tips to share with your fellow Bloggers and Influencers?
Campaigns should be conversational; most of us fail to initiate and carry forward a good conversation (or to share good trivia around the brand's product/hashtag). Spamming leads the brand to nowhere. Understanding the cause/necessity is the key for blogging/influencing. Content matters!!