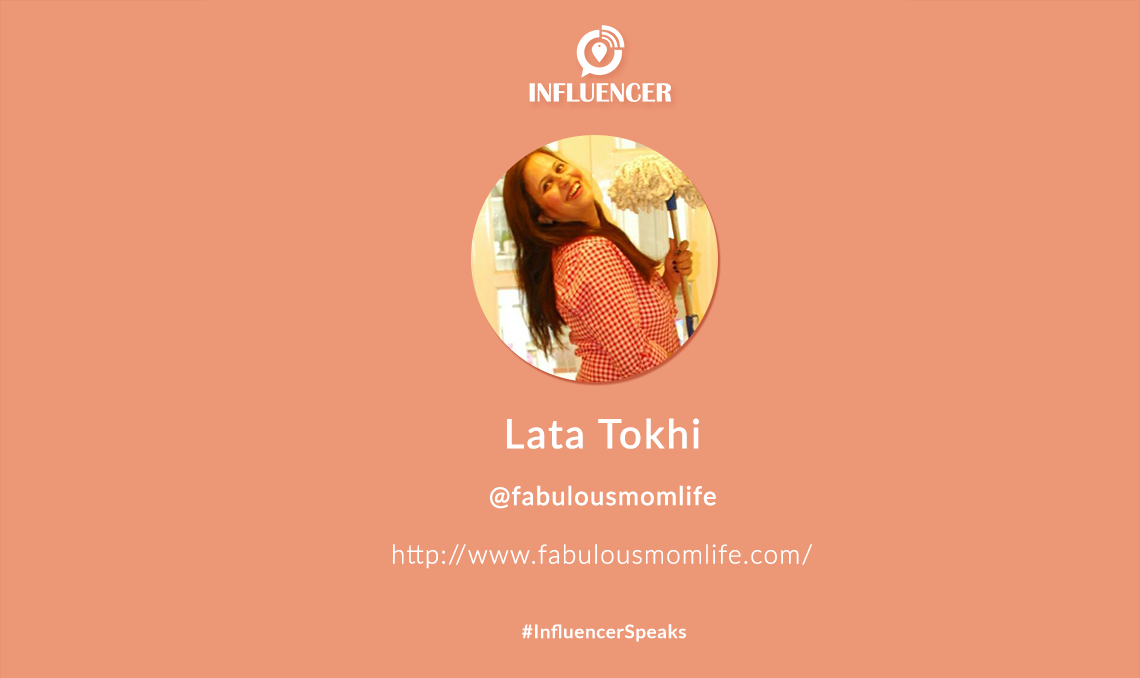 Influencer Interview – Lata Tokhi
Author: Radhika Chhabria
|
Updated Date : February 21, 2022
As a part of our #InfluencerSpeaks series, we bring to you some interesting insights into Blogging. This week we interviewed Lata Tokhi, a Mom of three kids. Lata is a Lifestyle Blogger who is popular for her unique parenting style. Here's what she had to tell us about her journey so far:
1. Can you please tell us a little bit about yourself and your Blog?
I am a mom of 3 and a full-time Lifestyle Blogger. People always ask me how I manage work, kids and my own lifestyle so I thought it would be a good idea to start a blog to share my experiences with other moms.
2. What did you do before Blogging? Who inspired you to share your stories?
Before blogging, I was a 'website owner and editor'. It is the same thing but when I started blogging 14 years back, we called them websites and wrote in editorial formats as opposed to the first person format that we use now. So I have been professionally blogging full-time for more than a decade on several domains. My style of writing has changed according to times and trends.
3. What distinguishes your Blog from the other Parenting Blogs?
You won't find 'parenting tips' per se on my blog. I leave that to certified professionals (who are in many cases not even parents themselves lol). But seriously, we have enough authority websites telling us about the do's and dont's. No preachy posts on my websites. I only share my personal experience. So if I haven't formula fed a baby, you won't see a post on it on my blog just for search rankings. I also boldly write about my innovative parenting ways – like gender neutral parenting, relaxed, no-rules parenting etc.
Also, most Indian Mommy blogs are by new moms. I include a lot of topics for grown up kids, preteens and teens like periods, internet safety etc. Another USP is my love for planning kids parties. I have thrown some memorable ones and feature them in detail on my blog.
4. Since your work involves being with your kids, what are the advantages and the drawbacks of involving your kids in your profession?
I have been working from home since forever and it is very beneficial in the sense that I am with my kids all the time. As for involving my kids, it comes with both advantages & disadvantages. My kids have become very IT savvy and there is a dance of joy when a product arrives for a review!
On the other hand, I am constantly struggling to keep their pictures from being misused online. Another challenge is to keep them away from screens when their own mum works all day on them.
5. Motherhood is full of challenges. What are the challenges you face on a daily basis?
Work and family life balance was a challenge in early stages but I am proud to say I have almost overcome it. Almost because well, there are days that require a crazy amount of work. Other than that, I face the challenges that every parent does. All 3 children have their own personalities and I constantly try to adapt my parenting style accordingly. There is always one of them who doesn't eat their lunch or wants to play beyond the designated time. And of course, I am a full-time referee in their endless battles and trust me, it isn't as funny as it sounds.
6. Which are the other Parenting Blogs you follow and would recommend to your readers?
I like blogs that focus on a relaxed parenting style because that matches my personality as well. I frequently visit cafemoms.com, mykindofparenting.com, scarymommy.com and I love makingourlifematter.com because she writes about parenting teens too which not many parenting bloggers do.
7. What would you consider to be your biggest achievement in your journey so far as a Blogger?
I have owned several successful websites and made a fortune, but it is only after I put my personal life as a mom out there in my blog did I realise my own worth as a woman and mom. I developed a strong following of moms who continuously praise my ideas and look upto me for a lot of their parenting concerns. I initially had reservations about a personal blog since I was used to working behind the scenes on my websites. Over time it feels like it has been a great idea and the love and support I receive along with the constant positive feedback have been my biggest achievement as a blogger till date.
To add to this thrill, the last 6 or 7 brands I worked with, responded specifically to tell me that they were blown away by the creativity of my reviews and photos. Some of the company and division heads took the time to mention this. The first time, I thought they were just being courteous. But when it continued for the next few brands, I realised I am doing something offbeat. It was a great feeling to be appreciated for my work by those who are actually working closely with the products and working with many other bloggers as well.
8. What do you enjoy the most about being a Mother?
I was born to be a mother I think and my husband was born to be a father. We enjoy and savour every moment we spend with our children and our only worry is what we will do when they fly the nest. From breastfeeding to playing in their pretentious kitchen to sharing my collection of Nancy Drew book's with them, I enjoy every bit of motherhood with my children at all stages of their lives. Being a parent gives you another shot at childhood and a chance to adjust your life to focus on things that really, truly matter. Kids teach you so many important life lessons I tell you!
9. Can you please tell us a little bit about your recent collaborations with brands and some interesting work in the pipeline?
I have loved collaborating with various brands. From almost every diaper brand (cloth and disposable) to kid's educational games and subscription boxes, it has been all out fun. There are more activity boxes, educational games and Apps in the pipeline and I haven't even mentioned them to my kids because I am scared that they might start dreaming about them.
And I love the fact that mom bloggers in India are not classified as only 'parents' anymore. My efforts to showcase my lifestyle stories on my blog, has attracted a lot of mommy specific beauty and fashion collaborations. Brands like Mama Earth and The Moms Co sent in their products made just for moms. Fashion labels like Stalk Buy Love were keen on featuring their apparel in a Mom fashion feature and Slimming centres like VLCC found their right target audience through my network. More beauty and lifestyle products are coming in and I can guess why. Mine is not a devoted beauty blog but moms need to take care of themselves and certainly have the purchasing power!
10. As a full-time blogger, what are the challenges you face?
Constantly changing technology is the biggest challenge. Every other day, there is a change in algorithms and a new platform coming up.
Blogging in India is also challenging because of the lack of a proper system in place. Often, the efforts and time of a blogger are taken for granted. Until my statistics and following really grew, many brands were not willing to compensate accordingly. Unfortunately, new bloggers and some others for whom blogging is not the way to earn their bread and butter, also make it difficult for other serious and quality bloggers.
Also, being a full-time blogger while taking care of kids is also a challenge in itself. However, blogging allows you to have a flexible schedule and you can do quite a bit with the help of a supportive family member.
11. If you had to share 3 tips with your fellow Bloggers who are just starting out in the Parenting space, what would it be?
1. Please be original and honest. There are a lot of pretentious bloggers who write on topics only because they sound good. This only deteriorates the quality of blogging. We become Influencers because other parents choose to believe what we tell them. Let us keep the trust in bloggers intact.
2. Invest time and effort in taking good photos. People don't have time to read everything we write. Use good pictures to put across what you are trying to say.
3. Technology is your best friend. Repeat that to yourself every day. If not, you will be left behind in this race. I had it all and lost it because I didn't move with the times. Then I gained it all back after I forced myself to keep up with the flow of technology.
12. Apart from your child, who would you like to thank, for being a part of your journey so far as a Blogger?
My Husband and my Mom. I wouldn't have been able to achieve a tenth of what I have if it wasn't for them. In India, things are like – Women can do anything they want, as long as they have done the dishes and cooked and cleaned. Thanks to my two pillars, I did not have to go through this.
13. Finally, what are your thoughts about Influencer.in? Would you prefer engaging with the brands directly or associate with platforms like ours?
I would prefer either, but it is anybody's guess that a platform like Influencer.in is a better way to go, for both bloggers and brands. No one can personally reach every single person in their niche. An aggregator like Influencer.in can give you more opportunities from brands in one place and tell more brands about my blog, in return. I would only like to see more in the Parenting niche on all such platforms and like brands to include the Mommy audience in Beauty, Fitness and Fashion niches too.