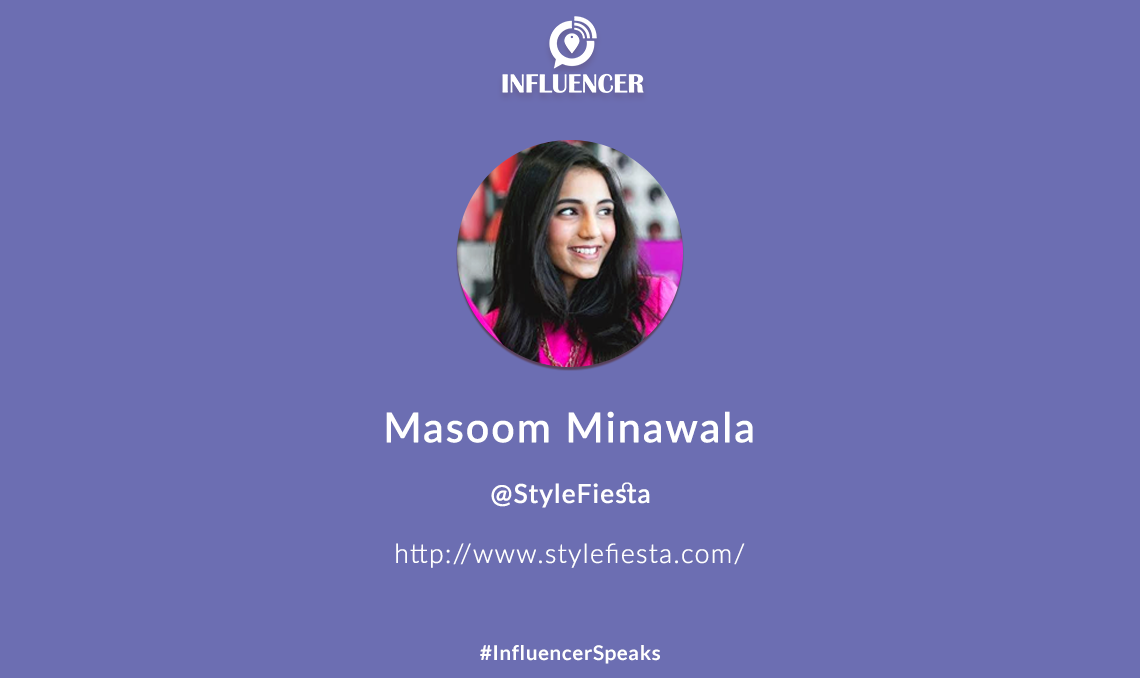 Influencer of the Week – Massom Minawala
Author: Sayantan Rudra
|
Updated Date : February 21, 2022
As part of the #InfluencerSpeaks series, we bring you the interviews with top influencers across India. This week, we are featuring Masoom Minawala, a social media influencer. Here's the transcript of her interview:
Please tell us a bit about yourself and your blog/online presence
I'm a passionate entrepreneur in the 'Fashion' genre for over 5 years. I have been blogging on Stylefiestadiaries.com & have worked with the likes of Burberry, Samsung, Loreal, BobbI Brown, Swarovski, YSL, Viber and over 100+ brands like these. My blog has been featured in all the leading magazines & newspapers of India like TOI, Hindustan Times, MidDay, Femina, Vogue, Grazia, Cosmopolitan etc and was also announced as one of Top 6 Indian Fashion Blogs in the entire country by Vogue India. Apart from Blogging, I am also the CEO & Founder of an Ecommerce brand Style Fiesta, which deals in fashion jewellery & accessories, retailing on all leading online marketplaces.
How did you get started online? How has the journey been?
The journey has been exceptionally exciting. In fact, Style Fiesta has successfully been in operation since 3 years now and we have raised our first round of funding last quarter, now preparing our onset into the international online market.
What type of content do you create?
Everything ranging from personal style, lifestyle, photography, travel and the business of fashion is what I write on.
Which brands have you associated with in the past?
I have worked with the likes of Burberry, Samsung, Loreal, BobbI Brown, Swarovski, YSL, Viber, Chloe, Vero Moda, Estee Lauder, Maybelline, Nykaa, Flipkart, Myntra, Jabong, Yardley, AND, Global Desi, Spoyl, StuffCool, GoColors, Liwa, StyleCracker, Abu Jani Sandeep Khosla, SVA, KOOVS, Flyrobe, Matrix, Shoppers Stop, Marketcity and over 100+ brands like these.
Any thoughts or tips to share with your fellow Bloggers and Influencers?
Follow your passion and do it with integrity. We're leaders in our own way, and its essential that we keep our readers interested with genuinely amazing, unique content about. Coming to influencer, develop your content rather than copying. Do not pass on someone else's content as your own or just write random stuff and pass it on as your opinion. Remember that you have your audience reading your content and following you.